Ruddy faced, small in stature, and unimposing in his demeanor, the normalcy of Seth Abid Hussain betrayed the extraordinary life he lived. In the presence of important, powerful, men one expects to feel daunted. But amongst a crowd, the Seth was unassuming. A shadowy figure that possessed an easy confidence when he had to speak, but maintained a stock disposition of reserved silence. His death, much like his person, was shockingly normal, and he died as one would expect any normal 85 year old to – of sickness in a hospital bed. 
On the surface, at the end of his life at least, shockingly normal is very much what he was. An ordinary old man that happened to be very wealthy, and used some of that wealth for charitable causes. In death he was remembered as a philanthropist, the founder of the Hamza Foundation for deaf and dumb children, one of the first and largest donors to the Shaukat Khanum Memorial Hospital, and a real estate developer that was once the largest property owner in Lahore. 
But to generations before this one, Seth Abid was the center of every conversation in drawing rooms back in the 1970s and 1980s. This seemingly docile, gentlemanly, indistinguishable figure was for much of his life known as the 'Gold King' of Pakistan. A man of humble birth, for decades he flitted between Lahore, Karachi, New Delhi, London, and the Persian Gulf smuggling gold from one place to another, with authorities from both India and Pakistan as well as Interpol on his tail. 
As his fortune grew, so did his profile, and Seth Abid's life was one that would go on to blur the line between legend and myth. His enormous wealth, as well as his real life involvement, spats, and collusion with the Pakistani state, gave rise to the stories about him that are still unverifiable, and still whispered about to this day. 
From smuggling nuclear equipment in a container, to offering to pay off Pakistan's debts in exchange for the freedom to do his business, and to kidnapping Benazir Bhutto – Seth Abid's life is enshrouded in the mists of rumor and speculation. His closely guarded but still visibly tragic personal life has only made the public more curious about this man. 
And that is not so strange. Money and the high life are attractive, and people tend to try and live vicariously through others. Distant but ever present names like Malik Riaz and Mian Mansha will always garner interest, curiosity, and envy. The same is true for figures outside of the law, like Billa Truckanwala, Abid Boxer, or Taji Khokhar, whose lives of bravado and violence will never not receive the romanticised awe of young boys that know no better. 
Seth Abid was both rich and lived outside the law, yet he managed to garner something even more than the distant admiration you would expect. He captured the imagination of the masses and inadvertently succeeded in entering the vernacular as a metaphor, with 'aida tu seth abid aya' a bonafide part of Punjabi sayings.
Well before his death, his fame and dominance in the everyday was already on the wane, and he was a much more feeble and mainstream figure than he himself would have liked to be remembered as. But what remains behind is his legend, and the many versions of his life that are told, and the many versions that will continue to be told. Profit looks at the life and times of the Gold King of Pakistan.
Innocuous beginnings
Seth Abid Hussain was born in 1935 at a village in Kasur that would eventually be a border town between India and Pakistan. Little is known about his early years or his education. What we do know is that he belonged to a modest family of traders that worked in transporting animal hides for leather tanning. His family was from Calcutta, and only by chance of business moved to Kasur around the time Seth Abid was born. 
His family managed to mostly avoid the violence of Partition, but in 1950 his father moved them to Karachi, where he set up shop selling gold and silver. This is where the story begins. Pakistan has no gold mines or gold reserves of its own, but is a gold crazy culture. People in this country tend to not just spend fortunes buying gold jewelry, but also (falsely) consider the precious metal a good investment that does not lose its value. So where does all this gold come from? Either the Gulf, the Americas or from neighbouring India. 
Now imagine the scenes in early 1950s Karachi. Here is a country that has only been around on the map for less than half a decade, and whose birth was marked by the largest and most violent migration ever witnessed in the history of the world. In the early 1950s, the border between India and Pakistan was relatively porous, and while it was dangerous, people easily came back and forth from it – particularly in the Punjab.
The Pakistan Navy, which even today is little more than a glorified coast guard, back then possessed exactly two sloops, two frigates, four minesweepers, two naval trawlers, and four harbour launches. In other words, the Karachi port was open for business both official and unofficial. And despite the terror of Partition, people were still very much getting married and the demand for gold in Pakistan continued to be high. 
So it was only natural that Seth Abid's father got much of the gold and silver he sold from smugglers that were bringing in the gold either from India, or the Gulf, or from the Americas through London. 
This is how by the end of 1950 Seth Abid, who until then had been a teenager hanging around at his father's shop and learning the tricks of the trade, was introduced to Kashif Bhatti. Bhatti was a seasoned gold transporter from Delhi. When Partition happened, he turned smuggler and began bringing the metal in from India through the border and from the Middle East as well.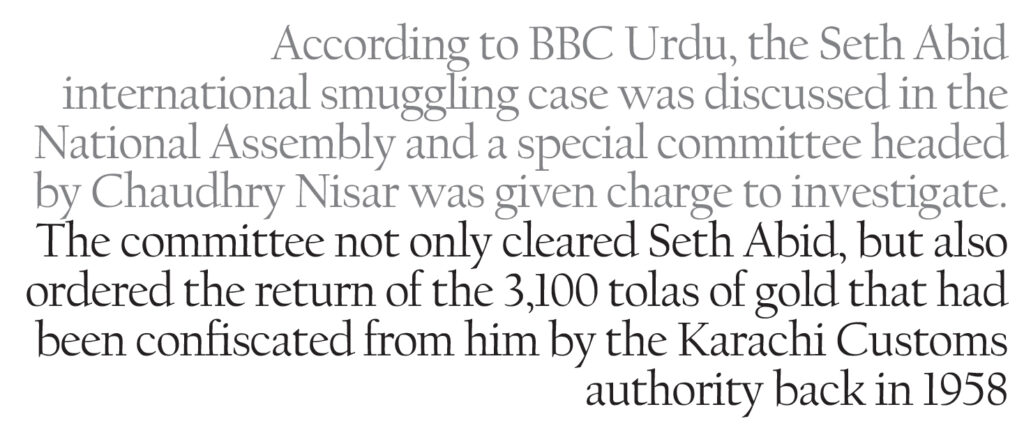 Seeing a spark in Abid, Bhatti took him under his wing and the two became a successful partnership. This is also where Seth Abid first learned what would become his smuggling ethos. Bhatti told him that just because the borders had gone up did not mean what they were doing was immoral, because they were simply trading legal goods, which was in fact a tradition of the Prophet Muhammad. 
The initial days of smuggling involved bringing in gold through the Karachi coast. Very quickly, Seth Abid's new endeavour became a family affair. His younger brother, Haji Ashraf, quickly took on the Gulf side of operations because of his fluency in Arabic. 
The business grew fast and within a couple of years, the authorities were on to them. This is when Seth Abid decided to go back to his roots, and began using the Punjab border to smuggle gold in from India. In Delhi, which is where Bhatti initially used to take him, Seth Abid's brother-in-law, Ghulam Sarwar, held sway and introduced him to people that would sell him gold. 
In April 1958, however, not even a decade into running this racket, Seth Abid was arrested by the Customs authorities in Karachi with 3,100 tolas (31.4 kilograms) of gold in the bags he was trying to transport. At the time, that amount of gold was worth $40,790 or approximately Rs195,000. At today's international prices, that would be worth approximately $2 million.
In a telling tale about the measure of the man, Ilyas Chattha in his obituary for BBC Urdu writes that "when customs sent out a press handout saying they had seized 200 tolas of gold, Seth Abid corrected them and said it was actually 3,100 tolas." 
This was the first time Seth Abid found his name in the press. We cannot possibly know how he felt about it, because even though he claimed to dislike the attention, he never bothered to try to put an end to it. Seth Abid's name was now out there, but after a brief five-month detention in jail he was out and would never serve time again.
In a short span of eight years, he had created an international smuggling network and another network of bureaucrats and policemen  within Pakistan that would get things done for him and keep him out of trouble. 
In the initial days, Seth Abid was still seen out and about in Sarafa Bazar (literally, the "Goldsmith's market") in Karachi and personally undertook smuggling missions. This arrest was the end of that, and from now on he would become a figure that stayed in the background and let his agents get their hands dirty for them. 
In this time, he became a very rich man at a very young age. Throughout the 1960s this wealth increased, and at a time when tracking money was difficult and hiding it in plain sight much easier than it is today. Seth Abid began buying property in Lahore and started fortifying himself as a legitimate businessman with other sources of income as well and began forming the 'Abid Group' – which is today one of the largest conglomerates in Pakistan.
This may have been how things continued, and Seth Abid could have lived on as he was, but that is when the Zulfikar Ali Bhutto era arrived and presented him with the conflict that would make him.
Enter Bhutto
Let us take stock of where we are in this story again. Seth Abid is a gold smuggler with an international reputation. He is a target for Indian authorities, and in the 1960s, and that makes him a national hero in the eyes of the Pakistani public. 
In 1963, The Times of India published a story that the 'Gold King of Pakistan' was hiding somewhere in India, and that his brother-in-law, Ghulam Sarwar, had been arrested with 44 bricks of gold – news that only raised his stature. Add to this the fact that he is famously charitable and we have a proper Robinhood on our hands. 
The stories of Seth Abid's magnanimity – never verified – were already widely talked about in Lahore and Karachi. He would go to the children's ward in hospitals and hand out thousands of rupees to anyone he would see. He supported countless families without them even knowing that he was their benefactor. He went on the Hajj every year and brought back with him gold that he would distribute for free among the poor preparing for the marriages of their daughters. These were only some of the tales that people would happily tell, and the Hamza Foundation for the deaf and dumb being established in 1964 was living proof of his generosity.  
And the fact that he was a smuggler made him even more attractive as a prospective legend. For starters gold is naturally alluring, and someone in the business of gold is alluring by association. The 1960s were also the peak of the Imran Series in Pakistan, and the idea of benevolent criminals and the gentleman robber were romanticised and firmly believed in. Wherever he was during this era, whether it was London, Saudi Arabia or India, Seth Abid was a looming figure and any whispered news about him was listened to with attentive ears. 
Then came the war of 1971 and the independence of Bangladesh. With the entire nation being torn in half and the regime of Zulfikar Ali Bhutto coming into office, a person like Seth Abid seemed to be the last person on anyone's mind. That is until the Bhutto government decided to take on the Seth. Bhutto was running a steamroller over most rich people in Pakistan at the time, and many of Seth Abid's assets were seized and cases registered against him. 
No one knew where he was at this time, so he once again avoided arrest, but a raid on his Model Town home in 1974 shocked the nation. Seth Abid was supposed to be untouchable, but his house had been plundered. The haul that was recovered from the house was plastered all over the papers the next morning, and the fascination with this man grew stronger. 
Reports claimed Rs12.5 million in Pakistani currency, Rs4 million in gold, and Rs2.5 million in Swiss watches were found and seized from the house. When Abid was still not found, Bhutto decided to ramp up his efforts and what was then the largest manhunt in the history of the country was launched in 1974 to find Seth Abid and present him before a court. 
The next few years involved some near hits and misses. In 1977, while the Seth was in Pakistan, his girlfriend's apartment was raided minutes before he was due to arrive to see her. It was also around this time that rumors (untrue) began circulating that Seth Abid had Benazir Bhutto, who was then studying in the UK, kidnapped so he could demand his assets be released in exchange for her release. 
But then, right as the hostilities between the Pakistani state and Seth Abid were coming to a boil, Bhutto was removed from office by a military coup and in came the regime of General Zia ul Haq, which would become one of Seth Abid's greatest partners.
Becoming Seth Abid
In September 1977, after fighting and running from the Bhutto regime for four years, Seth Abid presented himself humbly and willingly to the military regime of General Zia ul Haq. There were no conditions, no prior discussions that we know of, and apparently no fear. It was an audacious move, and a stroke of genius.
Seth Abid had hoped that Zia would accept him simply because of their mutual hate of Bhutto, who remained alive and incarcerated in a Rawalpindi jail. He surrendered himself and laid down arms and very politely asked for his assets back that he claimed were unjustly taken from him by the government. The assets were returned and it seemed the Seth had simply asked and been given with no favours being asked in return. 
But it became clear that things were not as simple as they seemed when in December that very year, he gave a sizable donation to the then Governor Sindh, Lt General Jahanzeb Arbab, for the building of two new hospitals. With public perception already on his side, Seth Abid continued to ride the tide of popular support and his philanthropy continued. 
What would truly establish Seth Abid in the minds of the Pakistani people as a master smuggler, however, would happen in 1985. This is when, reportedly, Pakistan was bringing in a reactor that it needed for its nuclear programme all the way from France. The problem, of course, was that Pakistan was not allowed to import such technology because of UN sanctions. The government then enlisted the help of Seth Abid, who smuggled the equipment into Pakistan from France.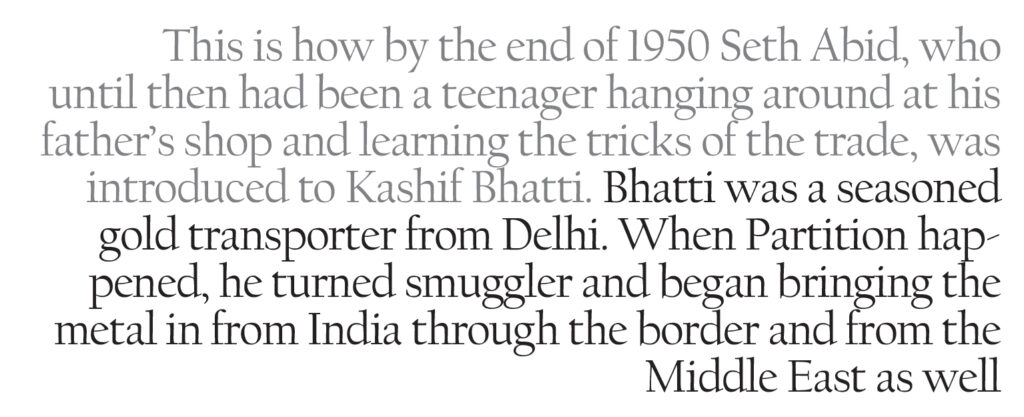 This public rumour, of course, is not even remotely true. France did sign an agreement in 1976 to help Pakistan set up a nuclear power plant at Chashma, but after strong intervention by the United States, including a personal trip to Islamabad by US Secretary of State Henry Kissinger, that deal was cancelled.
What appears to have some basis in fact is that he did indeed have some role to play in Pakistan's nuclear programme, which did involve the theft of at least some nuclear equipment designs, if not actual centrifuges, from Europe. What we also know is that right after this, Pakistan took a big step towards achieving nuclear power and that he received a boon from the Pakistan government soon after.
According to BBC Urdu, the Seth Abid international smuggling case was discussed in the National Assembly and a special committee headed by Chaudhry Nisar was given charge to investigate. The committee not only cleared Seth Abid, but also ordered the return of the 3,100 tolas of gold that had been confiscated from him by the Karachi Customs authority back in 1958. 
From here on out, however, it seemed that Seth Abid and the Abid Group began to rely less and less on smuggling gold and focused more on their legitimate businesses, the most important one being property.  The Abid Group founded projects like Eden Villas and Eden Gardens, and developed vast swathes of land around the Defence Housing Authority area in Lahore. 
During the 1990s, Seth Abid easily became the largest property developer in the city of Lahore. However he began to hand the business over to his son, Seth Hafiz Ayaz Ahmad. Gold smuggling was no longer as easy as it once was. The borders were tighter and financial scrutiny was tougher, and Seth Abid himself was a scrapper that liked to do things on his own. He was known to visit the houses in the societies he developed and introduce himself very plainly to potential buyers and get their opinions on how they would want things changed. 
But as more time passed by, he focused on the Hamza Foundation. Much of his passion came from the fact that he himself had differently abled children, other than his son Ayaz. At this point, his popularity was on the wane as the Abid Group stayed out of trouble compared to before, but his name continued to be used as a synonym for wealth and power.
In 2006, his son Seth Ayaz was gunned down by an angry security guard. After that, Seth Abid became more reclusive than before, rarely appearing publicly although he maintained close relationships with different governments that came and went at the time. The time out of the public eye has diminished his legend, but his remains a storied life. 
As technology advances and the world continues, Seth Abid may have been one of the last of his kind. Heists and activity outside of the law is now conducted over the internet, through hacking. Smuggling gold by trudging through borders is a relic of the past relegated to action movies. 
A senior editor at this paper wrote of Nawabzada Nasrullah upon his death that he was 'The last of the Churchillian' politicians. Of Nawab Akbar Bugti, the same editor referred to him as the 'last of the feudal Nawabs.' Seth Abid may just go down in Pakistan's history as the last of the outlaws.